TikTok is one of the most famous social media apps. It is a mobile app, and people mostly like to use it on a smartphone, but some people use it on a computer. Using TikTok on a PC is easy, and you can do it by visiting the platform's official website. The method to download TikTok videos on PC is not commonly known, but we will help you learn the process of downloading TikTok videos on your Personal Computer.
TikTok video download on PC is not that difficult. SmallTik's website makes it very easy for users to download videos from TikTok onto their PC. These services don't charge you any money and are free of cost.
SmallTik
SmallTik is a website that allows users to download TikTok videos on their devices. Users can download videos onto any website. You can download videos on PC, Android, or IOS. The best thing about this site is that it provides its services for free. Several websites online do the same thing, but SmallTik is the easiest-to-use website. People love to download TikTok videos on PC using this site.
SmallTik is available in three different languages. It has English, Spanish, and Bahasa Indonesia; more languages are expected to be added soon. The website provides high-speed downloading services to the users that save time and data. There is no need to log on to the website if you want to download videos through SmallTik, and it respects your privacy. Instructions on the website are available to download videos on different devices.
How to Download videos on PC
You can download videos directly on cell phones, but you cannot do it on a PC. SmallTik helps you in this matter as it allows you to download videos directly on your PC for absolutely free. The service is free of cost, so you don't have to worry about the money. The website doesn't require any extra application to work. By following our method, you can download video from TikTok Pc:
Open a web browser on your PC and visit the TikTok website.
Select the video you want to download and hover the pointer over the share button (with an arrow symbol).
A small pop-up will occur, select the copy link option from it and copy the video's URL.
Open another tab and open the SmallTik website.
Paste the link in the given box and click on the download button on the side.
The download will automatically start after a couple of seconds.
By downloading videos using SmallTik, you get watermarking fewer videos. No watermark means that the videos won't have the TikTok logo and User ID on their corners. You can also download videos without watermarks on phones.
Downloading Videos on Smart Phones
Downloading videos on a smartphone is easy compared to TikTok video download PC. You can do it using the official app, but if you want to download an HD watermark less video. You will need to follow our guidelines and you can do it using SmallTik in some easy steps.
On Android
You can download videos without watermark on android using the following method:
Open TikTok and click on the button with the arrow symbol.
Choose the copy link option from the pop-up window.
Open a web browser on the phone and open the SmallTik website.
Paste the copy link in the box and click on download.
Video will start downloading soon to the default folder.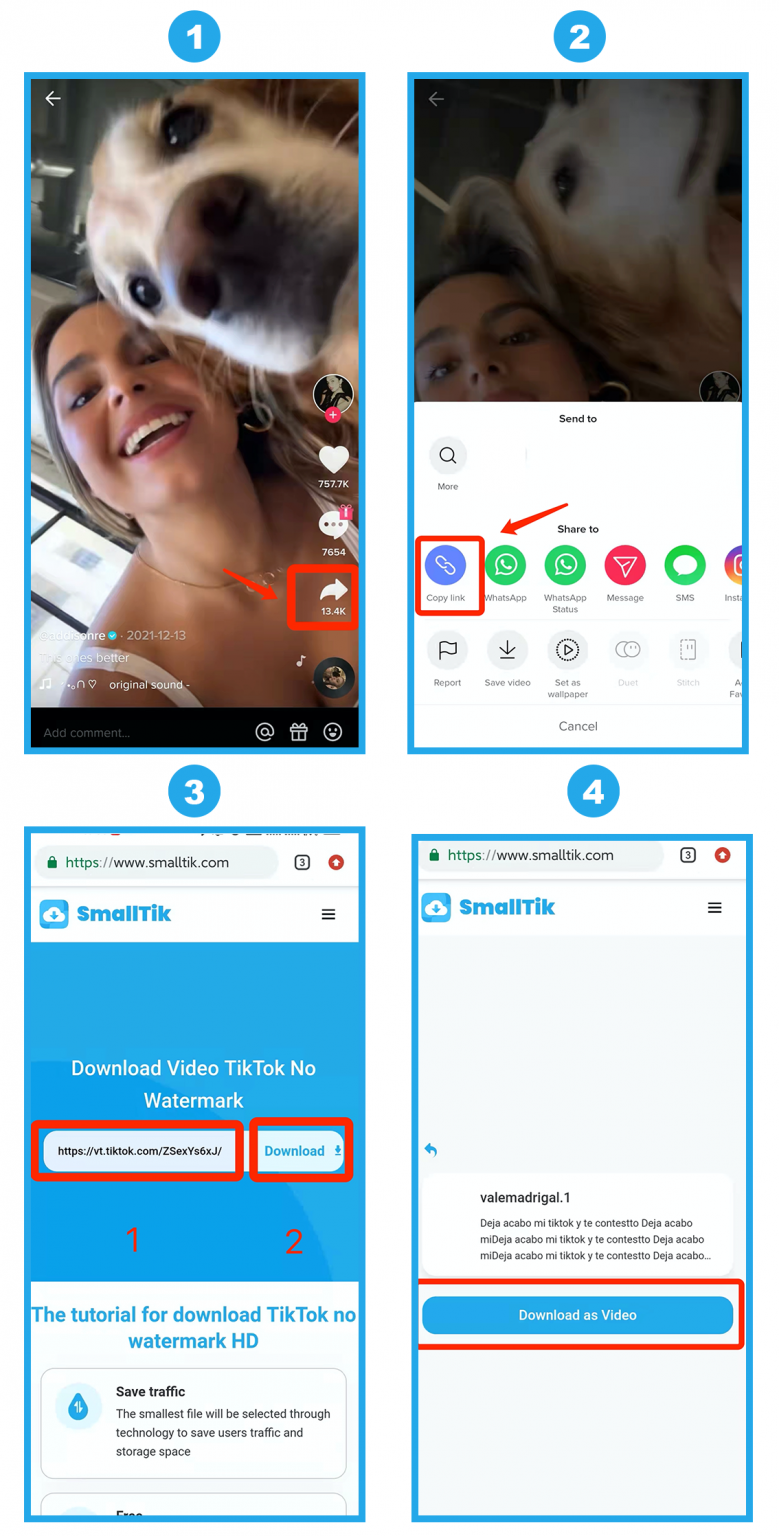 On IOS
You can download TikTok video on your IOS device without a watermark by following this easy process:
Open the TikTok application and select the video.
Click on the share button and select the button with the chain symbol; copy the link to the video.
Open documents using Readdle on your device and then visit the web browser.
Visit SmallTik and paste the link to the video on there.
Click download, and the video will start to download.
Merits of SmallTik
SmallTik is considered the best app to download TikTok video PC, Android, and IOS. It is easy to use, and people who gain little knowledge of technology can also use it. Its availability in three languages makes it best for the people who are weak in English. It is available in Spanish and Bahasa Indonesia, so people with these two languages can use it with ease. Creators of this website made sure that people of all kinds could use it easily.
SmallTik allows HD video downloading and gives users the freedom to download as many videos as they want. No login requirement makes it fan favorites just for that. You can also remove watermarks from videos by using this amazing website. So, all of these incredible features make it the most trusted and recommended website to download TikTok video PC.
Is TikTok Video Editor App Available for PC
Yes, several TikTok editing apps are available for PC. You can download them from any online application store. TikTok video editor app download for PC from any online software downloading platform for free. You can edit videos in that application on your PC to upload them on TikTok. You can also make new videos on that app, so yeah, you can download them for your PC.
Conclusion
TikTok is the most famous social media platform nowadays, and its popularity is still increasing. People want to watch and download TikTok videos on PC. As we mentioned earlier, you can do it by following some simple steps. You can enjoy fun entertainment videos on the big screen, and you also further edit those videos to your liking. SmallTik allows HD video downloading, so you will have a high-quality video to watch and edit. Visit the website and start downloading videos now cause a lot of fun is waiting for you out there.