TikTok is an amazing platform because of the content available on it. While you enjoy watching it online, you may want to download some of the videos available on TikTok to keep them in your offline storage for sharing or storing them. Although TikTok itself allows you to easily download these voids, the watermark can get very annoying sometimes. In that case, you need to download TikTok no watermark videos, which will make sure that you do not have to see any watermarks and logos in your favorite videos.
The Right Way to Download TikTok No Watermark Videos
There are several different ways to download TikTok videos, but if you are looking to download no TikTok watermark, then SmallTik is your best choice. It makes sure that every device user can conveniently download their favorite videos without watermarks. So, here is the right way to download your favorite videos on different devices.
Download TikTok No watermark Videos on PC
When we say PC, we count all desktop and laptop pcs. The best part is that this website works on Windows as well as Mac OS, so you do not need to worry about which one you have. Below is the right way to get things done.
Open TikTok and copy the video link.

First of all, you need to go to the TikTok video on your pc and click on the Share button to get the link. Copy that link!
Open Smalltalk on your browser and paste the link.

You need to go to SmallTik and paste that link that you just copied on your browser.
Download your video within seconds

Click on the download button to start the download. Now your video will be ready within a few seconds.
Download TikTok No Watermark Videos on Android
Using TikTok on Android brings an amazing experience because of the convenience of smartphones. Here is how you can Download TikTok no watermark videos on your phone
Press the share button on android to copy the link
When you are watching the video, you can press the share button and select the copy link option.
Open the browser application and go to SmallTik.
Once you have copied the link, you need to open any browser application and go to SmallTik to download your video.
Paste, Convert, Download, and Enjoy!
Paste the copied link, and SmallTik will start converting the video for you. Once it is converted, you can press on download, and your video will be on your offline storage.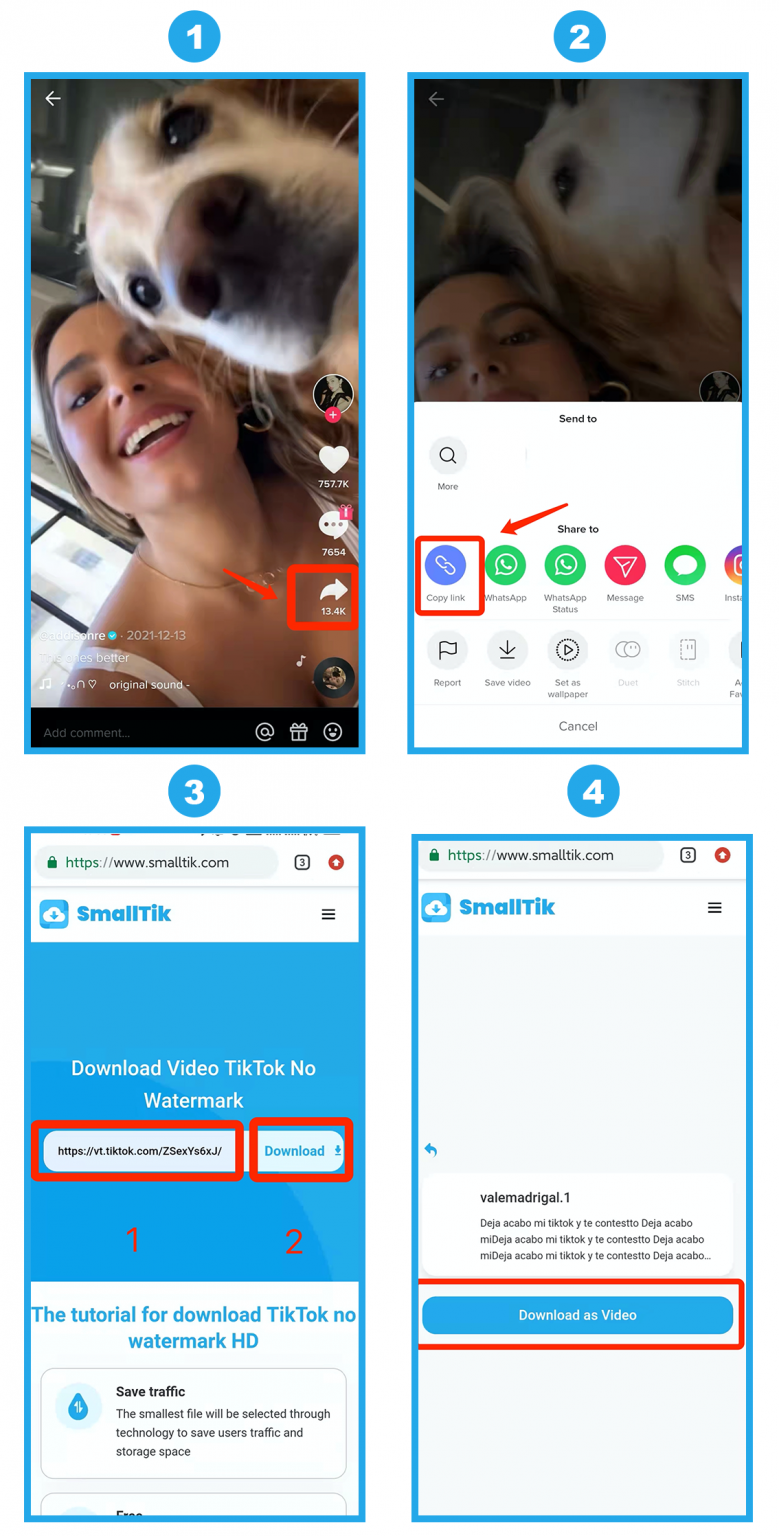 Download TikTok No Watermark Videos on iOS Devices
Some people love to watch content with convenience but on bigger screens. The iPads make a great choice for such people. However, if you are the one who wants to Download TikTok no watermark videos on your iOS device, here are the steps you need to follow:
Download "Documents by Readdle" Application

To start the process, you need to download this application on your iOS device
Share video and open the Documents by Readdle app to copy link

Now you need to open the TikTok video like usual and press the share button. There you will need to select the Documents by Readdle application, which will allow you to copy the link.
Open the browser application and go to SmallTik, Paste, Convert, and Download!

Once you have the link copied, you need to paste it on SmallTik that you will open in the browser app. Once the download button is available, you can hold on to it and select the "download the linked file" option to start your download. As the download completes, the video will be in file manager.
Important Things to Consider When Using Download TikTok Anti Watermark Tool
If you do not take care of every aspect, then you may have to face some issues regarding the videos that you download. Here are some special situations that have a chance to happen with you. So, we will also tell you the right way to resolve that issue.
Download format and media player selection

Videos downloaded here are always saved in MP4 format. Sometimes the device or media player does not support playing that format. So, to solve this issue, you need to get the supporting media player on your device. In this way, you will be able to watch every downloaded video without any issues.
Video saving location on the device

Sometimes you may find it difficult to find the video that you just downloaded using the Download TikTok no watermark tool. So, on PC and Android devices, you can go for the recent option. On the other hand, on iOS devices, you can go for the recent option in the file manager application to find your video.
SmallTik, Your Secure and Free TikTok Download Watermark Remover
SmallTik is the website that brings the best TikTok video downloading experience that too without any watermarks. It comes with a lot of features like the following:
Quick loading and fast downloading
Less storage space used for downloading videos
Safe and secure to protect your privacy
Very simple to use and easy for everyone
All of these features are available for everyone for free making it the right choice if you are looking for a tool for unlimited usage.